The Evangelism Department embraces these vision goals as important to fulfilling our mandate:
Providing training and empowerment to every believer to win the lost for Christ.
Assist to establish effective evangelism/outreach/in-reach in the local church.
Provide quality worship opportunites via revivals, crusades and soul-winning campaigns.
Develop strategic operational institutions for local church growth.
Embrace our evangelists and provide cutting-edge training for extended ministry.
Links: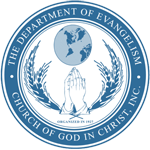 Contact Us:
By Phone: (313) 863-2636 Ext. 101